Like Sheffield, Accrington is nestled in the foothills of the Pennines. Accrington is home to Accrington Stanley FC, the football club best known for being the football club that no one's ever heard of. It's also home to The Cybermen...
image from cazphoto.co.uk - used without permission
No not those Cybermen!
These
Cybermen...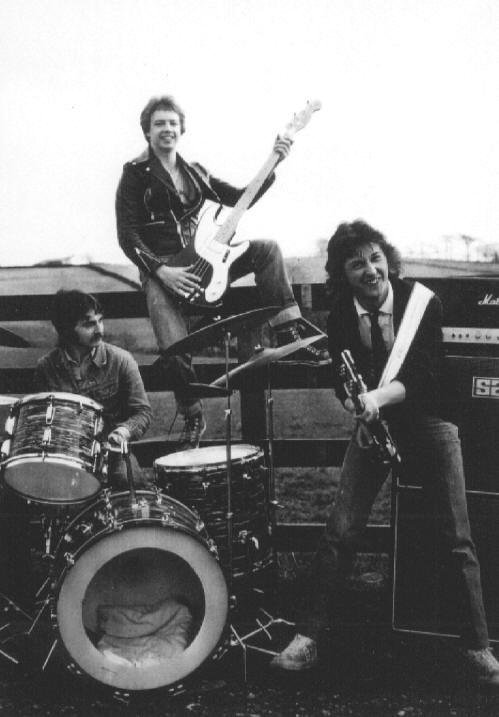 Paul Milek (drums), Ian Dixon (bass, vocals), Roger Entwistle (guitar, vocals)
...they are from Accrington after all... not Mondas.
If it wasn't for Hawkwind, The Cybermen may never have formed but thankfully they did and the first song on their first EP was titled
Cybernetic Surgery
; recorded in '77 and released in '78. It's a punk influenced slice of 70s pub rock, written on the cheap, recorded on the cheap, released on the cheap and the cover was designed using letteraset and a photostat machine... and that's punk through and through. It's not about the spitting or the shouting, it's about the DIY approach; making music for the hell of it. Sadly the DIY approached spelled doom for The Cybermen when the 'unfortunate borrowing' of most of their equipment prevented them from continuing beyond 1979... and I guess the world just wasn't ready for a three piece acapella punk band from Accrington.
Thanks to
boredteenagers.co.uk
for letting me plagiarise their information and borrow a photo. Further reading on The Cybermen can be found
here
... the free 'info pack' that came with their second EP is well worth a read.
Does anyone under the age of forty even know what a letteraset or photostat machine is? Answers on a postcard to PO Box 101, Cyberster, Cybershire. ...and don't forget to put your age.